2. WHAT we focus on when addressing GBV in Emergencies
In line with all GBV programming within CARE, our programmatic approach to addressing GBV in Emergencies focuses on GBV risk mitigation, response and prevention.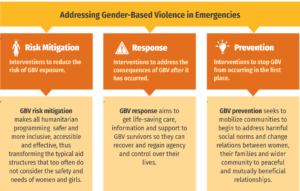 Risk Mitigation
Risk mitigation aims to identify GBV risks and take specific actions to reduce the immediate risk of exposure to GBV.
Risk mitigation actions are the responsibility of ALL staff across ALL sectors in humanitarian response.
Response
GBV response in emergency settings aims to establish or strengthen service delivery to support survivors and victims of violence.
GBV response should only be conducted by trained GBV specialists.​​​​​​​​​​​​​​
Prevention
GBV prevention aims to stop GBV from happening by addressing the root causes of violence and inequality.
GBV prevention activities should only be conducted by trained GBV specialists. ​​​​​​​
GBViE risk mitigation actions can be performed by non-GBV specialist staff while GBViE response and prevention interventions require GBV specialized staff. View the full GBViE Guidance Note a for further information.
All staff have a responsibility to respond appropriately to disclosures of GBV. The GBV Pocket Guide is a useful resource on how to support a survivor who reports an incident when there are not GBV actors in the area.