4.1 Appropriateness of CVA
For CVA to be effective and successful, it must suit the context. The decision of using in-kind, cash programming, or a combination of modalities will be based on situational analysis outputs and a comparison of the relative risks and benefits of different transfer modalities (in-kind and cash based), cost-efficiency, and potential effectiveness. This includes timeliness, the skills and capacity necessary to implement cash programming, and their coherence with other aid programs.
To use CVA for emergency projects, the following conditions must be met:
Functional and accessible markets:
Markets are functioning and integrated;
Vendors, especially women traders, have safe physical access to the market with their products;
Communities are used to access markets to cover their basic needs;
Products are available at regional, local levels or within an acceptable distance;
Traders are willing and able to participate;
Target group, including women, has physical access to shops/markets and culturally it is acceptable for them to do so;
Social acceptance of cash (within the community and by the authorities);
An efficient payment mechanism is accessible by all community members and safe for both the community and CARE team members;
A team trained in CVA.
Potential advantages and disadvantages of CVA: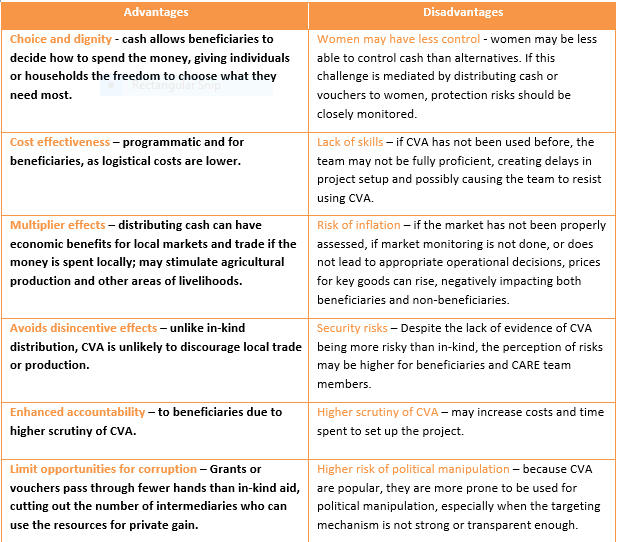 This decision tree can be used to determine whether CVA fits contextual circumstances: