3.5 Assessment and Selection of Financial Service Providers
The selection of Financial Service Providers (FSP) follows the procedure for procurement of service described in CARE's Procurement Manual.
Assessment includes:
Identifying administrative details and compliance:

Gather organizational and contact information, data about provider history
Get a detailed history, including the existence of and adherence to policies on the prevention of sexual exploitation and abuse (PSEA), child abuse, anti-terrorism, fraud, bribery, discrimination, harassment
Ensure FSP would sign a legal letter confirming that the organization is legally compliant and not subject to any legal investigations

Identifying coverage zones and capacity of coverage in each region
Ensuring that FSP has or can improve gender balance and capacity in each region if needed
Identifying operational capacity at each distribution point:

How many beneficiaries can they serve?
How much cash they can distribute every day?
Can the staff women at each distribution point?
What are their turnaround times and line capacity?

Gauging experience of humanitarian cash transfers:

Experience working with humanitarian organizations
Number and type of different cash distribution mechanisms available
SOP to transactions and providing receipts
Ability to share names/contact info of cash dispensing agents at district/sub-district level
Willingness to comply with CARE policies on PSEA, anti-terrorism, anti-bribery/corruption, etc.

Determining the cost of service and transaction financial process
Monitoring and reporting processes
Contracting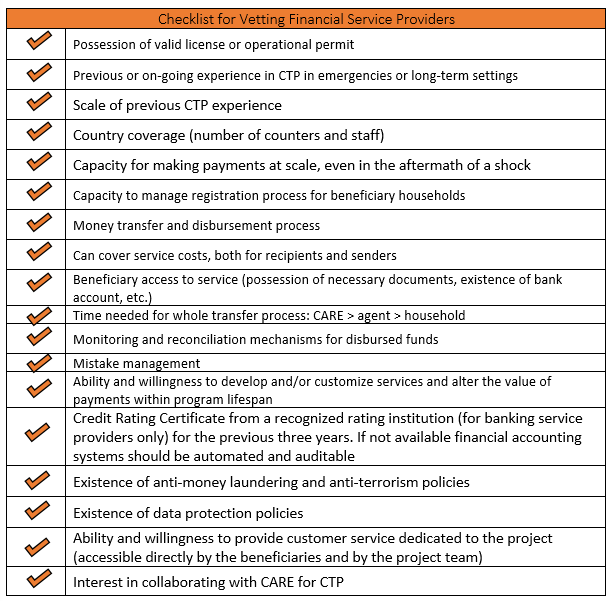 Selection:
Payment agent selection should align with response context and program objective, but is generally based on the following criteria:
Access and speed:

Consider cash flow, delivery point proximity, training and registration time, payment processing time, system breakdowns (mobile networks, internet, etc.). Depending on how urgent the needs are, speed and payment mechanism reliability can be key deciding factors. If considering longer-term activities, then payment mechanism costs and sustainability can become deciding factors;

Scale:

Effectiveness of different options to deliver at project scale;

Acceptability and reach to vulnerable groups:

Convenience and acceptance at community and individual levels;

Security and safety:

Physical safety all beneficiaries (particularly women, girls, and other vulnerable groups), as well as CARE staff and partner team members;

Data protection:

Should consider the level of data protection offered and potential counter-terrorism regulations;

Controls and risk mitigation

: Includes beneficiary verification, donor and government regulation adherence, transparency and control risks, and the ability to monitor and correct, and report/ provide reconciliations;

Flexibility:

Ease with which the chosen vendor can adjust to varying payment size and frequency;
Existence of a

framework agreement

with CARE and/or experience of the payment agent;

Service costs:

Includes set-up charges (especially if new technologies are considered) and transaction costs, as well as additional charges such as staff time, transport, security, education, and training costs, should be considered. Costs incurred by the beneficiaries (cost of transport, opportunity cost of time spent to access the cash, financial cost to withdraw the cash/transaction) should also be included in the cost analysis.