3.4 Partner Capacity Assessment
It is best to avoid starting new partnerships in an emergency, so identifying partners or building their capacity should be a priority for preparedness.
Key considerations for partner selection include: gender sensitivity, response scale, capacity, and cash readiness (or amount of work that would go into making a partner cash ready).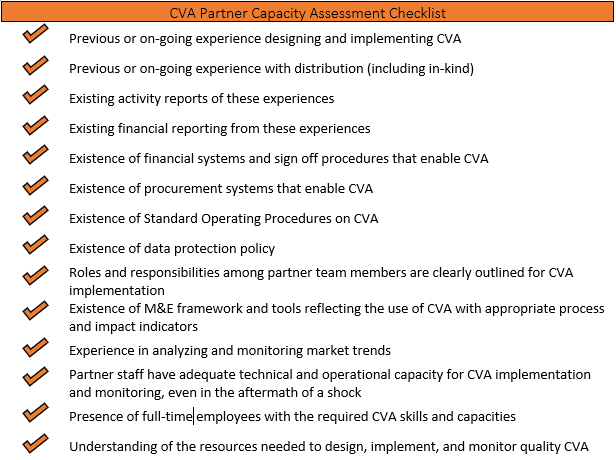 Agreements with implementing partners and other responsible parties should be developed with well-defined roles and responsibilities. CVA use should be mentioned in the agreement, and process indicators should be developed to ensure the proper implementation (see: Monitoring and Evaluation – insert link to Section 27, subsection 6). If CARE's partner has existing Standard Operating Procedures on CVA, CARE Project Manager or Team Leader should make sure these are not conflicting with current guidelines. In case of discrepancies, agreements should state that CARE guidelines and SOP take precedence.
Potential tools for partnership development/assessment: