4. Phases in the partnership process
Working in partnerships could be divided into 5 different phases. These phases are coinciding with the moment in the project cycle. The figure below represents the phases in the partnership process for a single project during a rapid onset emergency. In reality however, you may have strategic partners for a longer period beyond the duration of a project.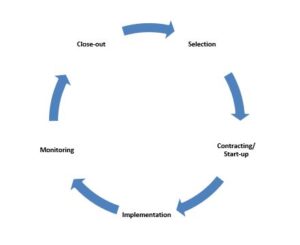 Ideally, the partnership process is started as part of your preparedness planning. This basically means that the selection process has been completed during "peace" time, resulting in a framework agreement to work with a partner during an emergency. This will save considerable time once an emergency hits. Moreover, identifying partners during your emergency preparedness planning will provide an opportunity to invest in capacity development of the partner. Partners are usually selected before proposal design, but this is not always possible.
Each phase in the process has some critical steps that have to be taken. The exact steps in the partnership process may vary in each response. The reality of an emergency is often complex, hence the below guidelines should be tailored to your specific needs and context. It is recommended however to adhere as much as possible to the specific steps outlined below.
It is important to realise that the role of CARE in a partnership often has shifted away from direct implementation. This means that the nature of responsibilities of CARE staff will change. The below checklist highlights the main responsibilities of CARE staff in a partnership, where implementation is done by partners.
 Implementation Checklist
Coordination: Conduct frequent coordination meetings with partner staff
Reporting: Review partner financial and narrative reports
Disbursements: Ensure timely payments/disbursement due to partner
Ensuring program quality: Provide technical assistance, on the job coaching and (refresher) training where needed
4.3.1 Partner Coordination
4.3.2 Reporting
4.3.3 Planning and handling disbursements
4.3.4 Ensuring program quality

Monitoring Checklist
Conduct frequent monitoring field visits
Review and compile M&E data from partner
Conduct mid-term partnership review (survey)
4.4.1 Monitoring program activities
4.4.2 Monitoring the partnership
Each CO may have its own close-out procedures. Make sure to check this with your CO and Lead Member. In general, the following tasks are part of closing out a partnership agreement:
Close out Checklist
Consider requesting (no)-cost extension if the burn rate is low
Verify all project activities have been completed
Consider donating project assets to partner (refer to donor guidelines)
Review and approve final financial and narrative reports
Conduct partnership survey evaluation
Transfer remaining funds/balance
Archive final records and project documents
Invite partner to the After Action Review (AAR)
Recognise and celebrate achievements of the project
Send close-out letter to partner
Consider new project with the same partner
Closing out a partnership agreement is a phased process. Identify in an early stage the key activities to ensure there will be a smooth close-out. Closing out a partnership agreement is not the same as closing out the collaboration. If the cooperation was mutually satisfactory, the partnership can continue through a framework agreement (non-project based), or by starting a new partnership agreement for another project.