2. WHAT is gender integration in an emergency response?
Gender equality is central to CARE's Vision 2030. It is at the heart of CARE as an organization and in programming. CARE's Gender in Emergencies (GiE) approach is the foundation to it's humanitarian work. CARE is a rights-based organization, committed to eliminating poverty and injustice. CARE aims to promote the dignity and human rights of persons of all genders and all diversity groups.
CARE's emergency work uses CARE's Gender Equality Framework.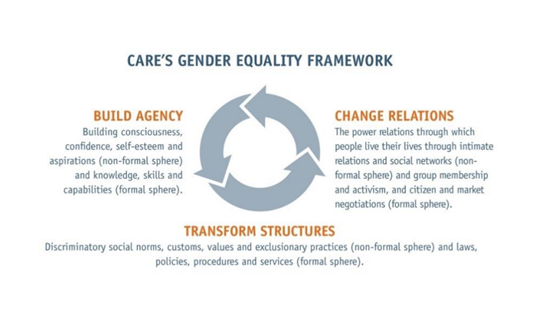 Gender and age considerations across all diversity groups can compound vulnerabilities. Thus, the unique conditions of each emergency requires context specific analysis and approaches. CARE has a commitment to fighting injustice. This means a focus on:
Ensuring gender equality is central to all programs

Uplifting and advancing the needs and voices of women and girls

Engaging with the experiences and challenges of men and boys, who also suffer from gender inequality
Humanitarian emergencies offer a 'window of opportunity' to transform unequal gender relations and shift harmful gender norms.

CARE works along a continuum to ensure that emergency responses are at least gender sensitive. More information about CARE's continuum can be found in Section 4. Humanitarian responses also aim to be conflict-sensitive, intersectional, inclusive, locally-led, locally-tailored, and globally-connected.

For reflections on CARE's approach, examples of CARE's Gender in Emergencies work and good practices, visit this video link.