For Help Contact:
Emergency Shelter Team
Tel: +44 (0) 20 7091 6000
Email:
emergencyshelter@careinternational.org
Step Haiselden, Global Emergency Shelter Team Leader
Amelia Rule, Emergency Shelter Advisor
Bill Flinn, Senior Shelter Advisor
Crystal Whitaker, Emergency Shelter Advisor
25. Shelter
When people lose their homes, they lose their security and belongings, and they lose dignity and privacy. Emergency shelter protects vulnerable people from danger, suffering and exploitation.
When people lose their homes they also lose their largest financial and social assets; they lose their sense of belonging and family heritage. The home may be the work-place, and they may lose the ability to earn. Exposure to the elements, over-crowding and a lack of washing facilities makes people ill. An unfamiliar environment and the lack of privacy can be traumatic. Poverty and the loss of livelihood makes rebuilding and recovery hard. Supporting vulnerable people to recover adequate and dignified housing after disaster is central to CARE's mission to defeat poverty and achieve social justice.
Shelter activities can have multiple positive effects. Restoring housing can improve physical and mental health. It can empower people to provide for themselves through livelihood activities. In addition, shelter activities themselves create further benefits. Construction creates temporary employment for those who are unable to access their normal livelihoods through labouring and manufacture of building materials. This can boost the economy that has been affected by the emergency. Repair and reconstruction can lift community morale. Emergencies can also provide an opportunity to sensitively redress inequalities in control and ownership of assets, land and property.
1.1 What is humanitarian shelter?
1.2 CARE's shelter principles
1.3 Coordination
1.4 Shelter terminology & jargon
Use the Shelter Gender Marker Tipsheet to help ensure your shelter preparedness, assessment, design and implementation are gender sensitive or better:
Shelter Gender Marker Tipsheets
Use the CARE Gender & Shelter: Good programming guidelines to gain more in-depth understanding and find detailed guidance on how to address gender issues in shelter programmes: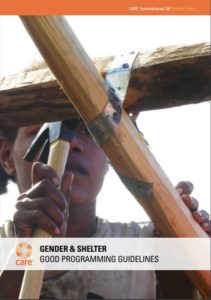 2.1 Gender analysis & shelter programmes
Shelter programmes should support people's own preferences and approaches to finding shelter.
Families and communities find shelter after a natural disaster or conflict in a number of different manners. The situation and the needs will vary from one location to another, depending on whether people are displaced or not displaced, on their resources and capacities, and on many other factors. It is also important to understand the likely manner in which a community will recover – what is its probable 'pathway to recovery'?
The needs assessment should identify these different spontaneous shelter options. Some of the most common are considered below:
Temporary or makeshift shelters
Very sub-standard and basic shelters made from salvaged materials, plastic sheeting, rope, etc. This is never considered to be an adequate or appropriate solution, even in the short-term. The rapid needs assessment should identify the needs of these families so that emergency support can be provided.
Host families
People may stay with host families if they have relations or friends. This can be a good way to stay connected with existing community networks and to access resources. Alternatively, they may pay rent and live with strangers. People staying with host families can be missed during assessments because their situation is not visible. Overcrowding and privacy can be an issue with unsupported host families.
It is important to assess the needs of both hosted and hosting families.
Collective Centres
In the first instance after a disaster, a collective centre is likely to be a community building such as a school, church, hall etc. Destitute families will sleep communally, often in very crowded conditions with inadequate privacy and access to water and sanitation. A shelter programme can support these families with NFIs and materials to improve privacy and dignity. However there is often pressure to vacate collective centres as quickly as possible so that they can revert to their original use, classes can commence etc. Collective centres can also be purpose-built, normally by the government. Generally CARE would consider then to be an option of last resort.
Informal or spontaneous camps
Families that cannot either build a basic shelter, repair their existing house or move-in with another family will be forced to set up informal camps, sometimes within their home community, but sometimes migrating considerable distances. The assessment needs to locate these camps – they can be as small as just one family – and ascertain their emergency and longer-term needs.
Rentals
Displaced people who have the resources to do so may seek to rent land or accommodation in the short or longer term.
Self-recovery
Frequently families initiate a rapid pace of reconstruction and repair and use the resources they have to hand. This might be done in parallel with temporary shelter or hosting, or accommodation in a collective centre.
Depending on the way in which people are seeking to shelter themselves, their plans for recovery, and the capacity of their communities and local organisations to support them, there is a wide range of shelter support options open to CARE and its partners: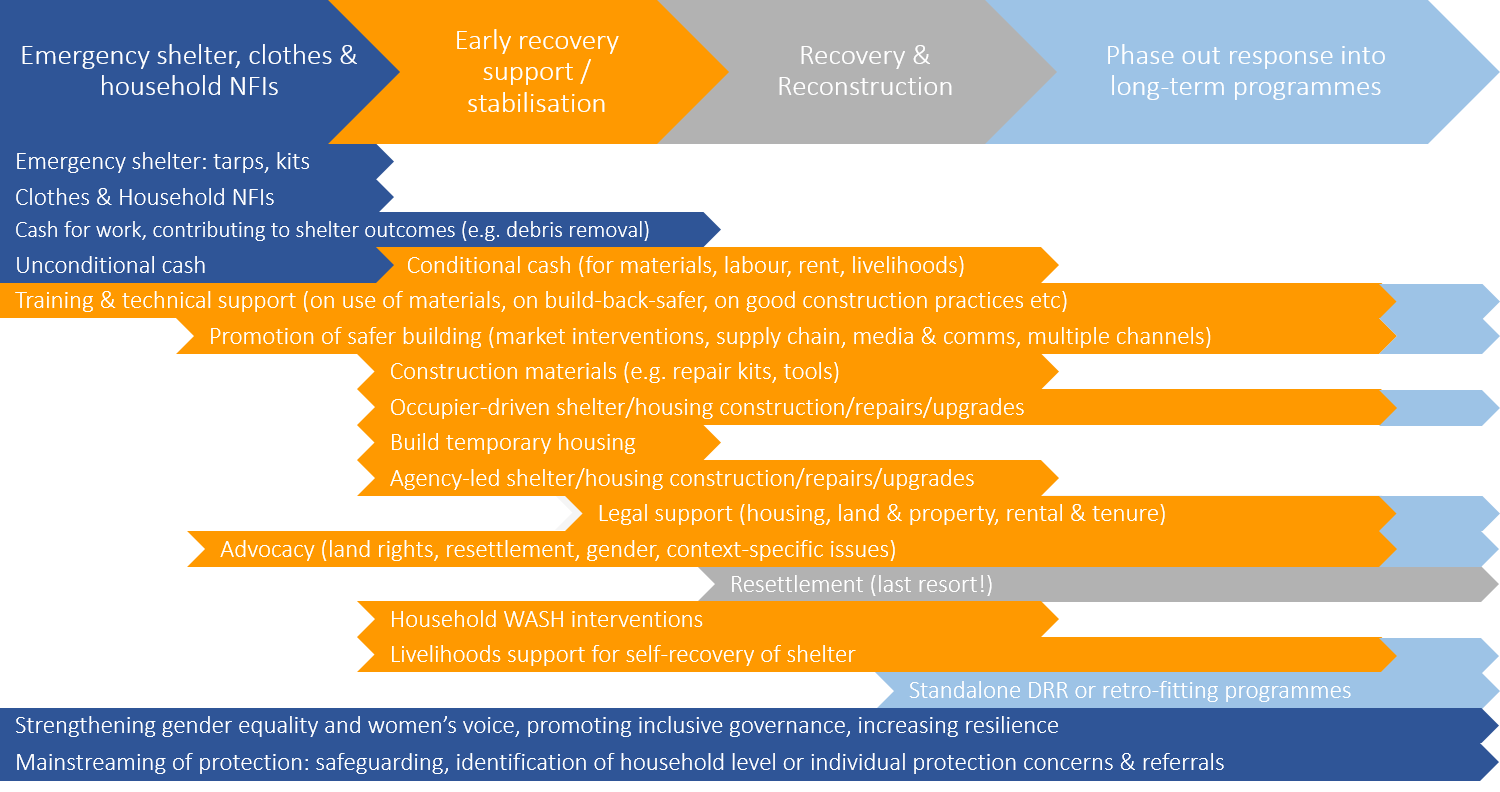 4.1 Tarps, tents & kits
4.2 Clothes & household NFIs
4.3 Cash for shelter
4.4 Training & technical assistance
4.5 Recovery support
4.6 Promoting safer building
4.7 Temporary houses
4.8 Construction
4.9 Collective centres
4.10 Camps
4.11 Housing, Land and Property and other legal assistance
4.12 Urban responses
4.13 Support to host families & communities
4.14 Resettlement
Always ask for help. The shelter team based at CARE UK is there to support County Offices. It can call on its roster of experts for specialist advice if there is a need.
Specialist assistance may be required in an advisory short-term role, or for longer duration especially in a response to a major disaster. Specialist assistance and the knowledge of previous shelter programmes is invaluable when the strategy is being developed, and to help predict and manage risks. Further specialist staff is usually required for implementation. Properly and appropriately qualified engineers are always required for the construction and management of all public buildings. National knowledge is essential for compliance with local codes and regulations.
The focal point for the shelter sector in CARE is the Shelter Team Leader. Country Offices should contact the UK-based shelter team for advice and revision before submitting funding proposals, and to access support and lessons learned from CARE's previous shelter programmes. The shelter team can offer technical advice on assessing shelter needs and resources, integrating the shelter strategy with other sectors, identifying and budgeting for appropriate staff, and ensuring that good opportunities in shelter response are not missed. Anticipated support, deployments and evaluations should be included in all budgets.